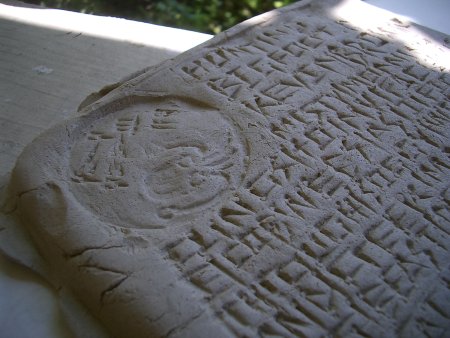 The scifi/humor 'zine Space Squid has just released a special edition of their latest issue on clay tablets. As trendy as clay tablets are these days, they don't get enough cred. One of the editors created the tablets using a cuneiform stylus like an ancient Sumerian (Iraqi) scribe and then created a hard polyurethane plate to press the double-sided copies. The regular edition is also out, and at its core are images of the same two clay tablets, surrounded by pages of extra PDF goodness. Check it out at their Free Scifi page.
Everyone is going on about how "print is dead" these days, so it's particularly amusing to see this publication pushing the idea the opposite way and "printing on the deadest media available." The project got some great press at WIRED, on Bruce Sterling's blog, and at various webby spots. You can see the blog on how to make your own clay tablet publication and the YouTube clay tablet guide.
Space Squid is based in Austin, but claims to contain "your puny planet's finest scifi and hijinx." The issue contains stories from several foreign contributors.